Solar shingles are changing the solar market—find out where they came from.
Solar shingles, often referred to as building-integrated photovoltaics or BIPV, are becoming a preferred look for solar that provides clean energy generation with an integrated appearance. A new take on the traditional rooftop solar panels, solar shingles create a more integrated appearance by replicating—and often enhancing—the style of standard shingles. People choose shingles because the shingles offer the durable and weather-proofing of traditional shingles, with energy generation included. In this article, we will explore the history of these shingles and what makes them such an amazing contribution to the industry.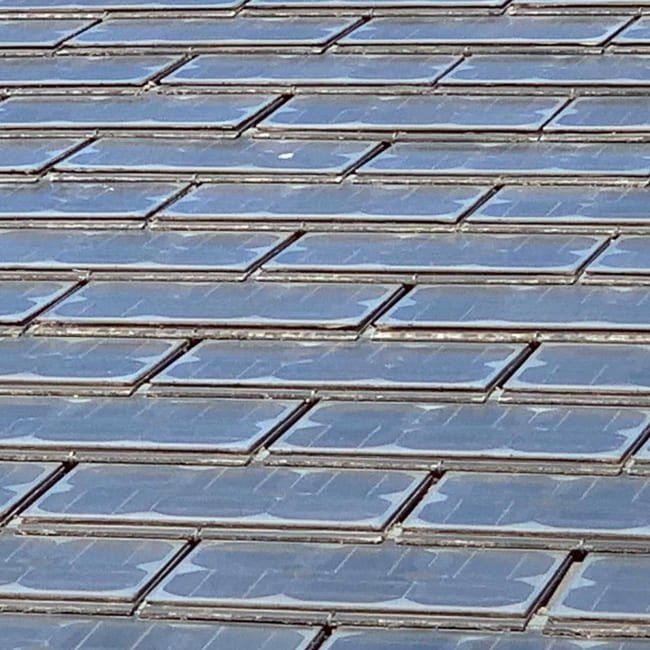 Your Guide to Solar Shingles
Solar panels have been the standard for quite some time, but solar shingles are stealing the show for new construction and re-roof projects. More companies, like SunStyle, are creating solar shingles that homeowners are happy to choose because of their integrated look and high efficiency.
Who Invented Solar Shingles?
The concept of the solar shingle was first introduced by DOW Chemical Company. Made to blend in with the popular asphalt roof that could be found on many homes, the first versions of solar shingles became a concept that companies would continue to enhance and improve for years. Now, homeowners have a variety of solar shingles when considering a solar solution.
How Long Have Solar Shingles Been Out?
The first version of solar shingles was formally announced in the early 2000s, with the early adopters residing in Europe. The United States started adopting BIPV technology years later. This bank in Skokie, IL was one of the first BIPV roofs known to be installed in the US. Since then, more companies have started making them, offering solar shingles that can differ by building material, installation method and even aesthetics . Some solar shingles are designed to be mixed in with traditional shingles, while other roof systems, like SunStyle, are a fully-integrated system with active and inactive shingles that are made from the same laminated glass.
Why Are Solar Shingles Important?
Solar shingles generate clean energy without the aesthetic compromise that comes with other kinds of solar. For a long time, solar had meant aesthetic changes to the roof of the home. Some people don't mind the look of solar panels, others prefer not to disrupt the look of their roof and avoid solar integration . Solar shingles allow homeowners to have both a fully-integrated roof and power generation.
The integrated technology of solar shingles makes them a wise investment by combining the structural roofing material with solar modules. Rather than standing out and taking up space, solar shingles are designed to look similar to traditional roof surfaces. Different solar shingles present different aesthetics from asphalt 3-tab shingles to high-end slate.
The Takeaway
For homeowners, solar shingles present a new option for solar. These shingles come with the benefit of knowing that your home will have an integrated look and still be energy generating. Every roof and home has different ways to benefit from solar. It can be great to have a customizable option that matches your home.