Power any home with SunStyle® solar shingles.
Expectations of the energy performance of buildings will continue to increase. At the same time, we want to move away from fossil fuels and nuclear energy, and towards renewable energy sources. A fully integrated solar roof that converts clean and unlimited solar energy into electrical energy stays takes this trend into account.
The SunStyle® solar roof connects the two objectives in a harmonious manner: first, as a high quality construction element, it offers sustainable weather protection; and, second, it enables efficient electricity production over the entire roof surface.
Our aim is to ensure that appearance of the roofscape is maintained. The traditional slate and shingle roofs in the Swiss Alpine region inspired the design of the diamond-shaped dragon-scale pattern. This installation principle guarantees optimal water-tightness and stability of the roof.
The SunStyle solar roof has an extremely low construction height and can be integrated stylishly into any building, even those with complex roof layouts taking into account their unique shape and any protrusions like chimneys or skylights. When planning a new structure, there are certain design elements that should be considered to make installation of a SunStyle roof easier and more cost-effective.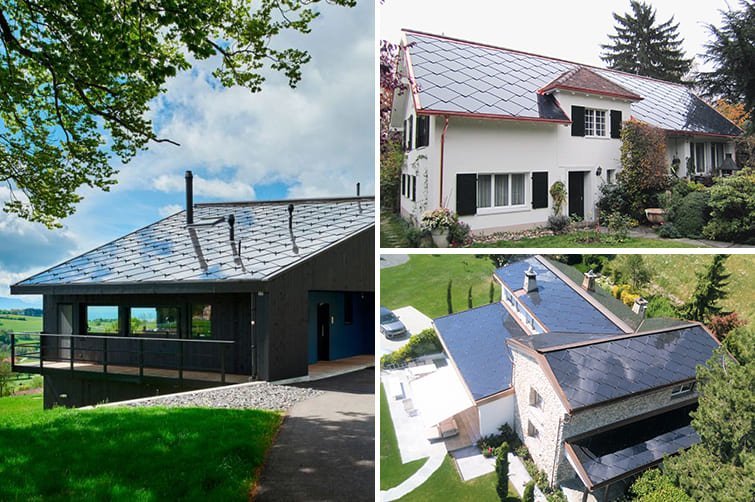 High-quality, dual purpose roofing materials create a versatile solution that is both a durable structural roof and a distributed energy power plant. Many installations produce more energy than the property requires. This excess capacity can be stored in batteries or sold to the local utility and shared on the grid.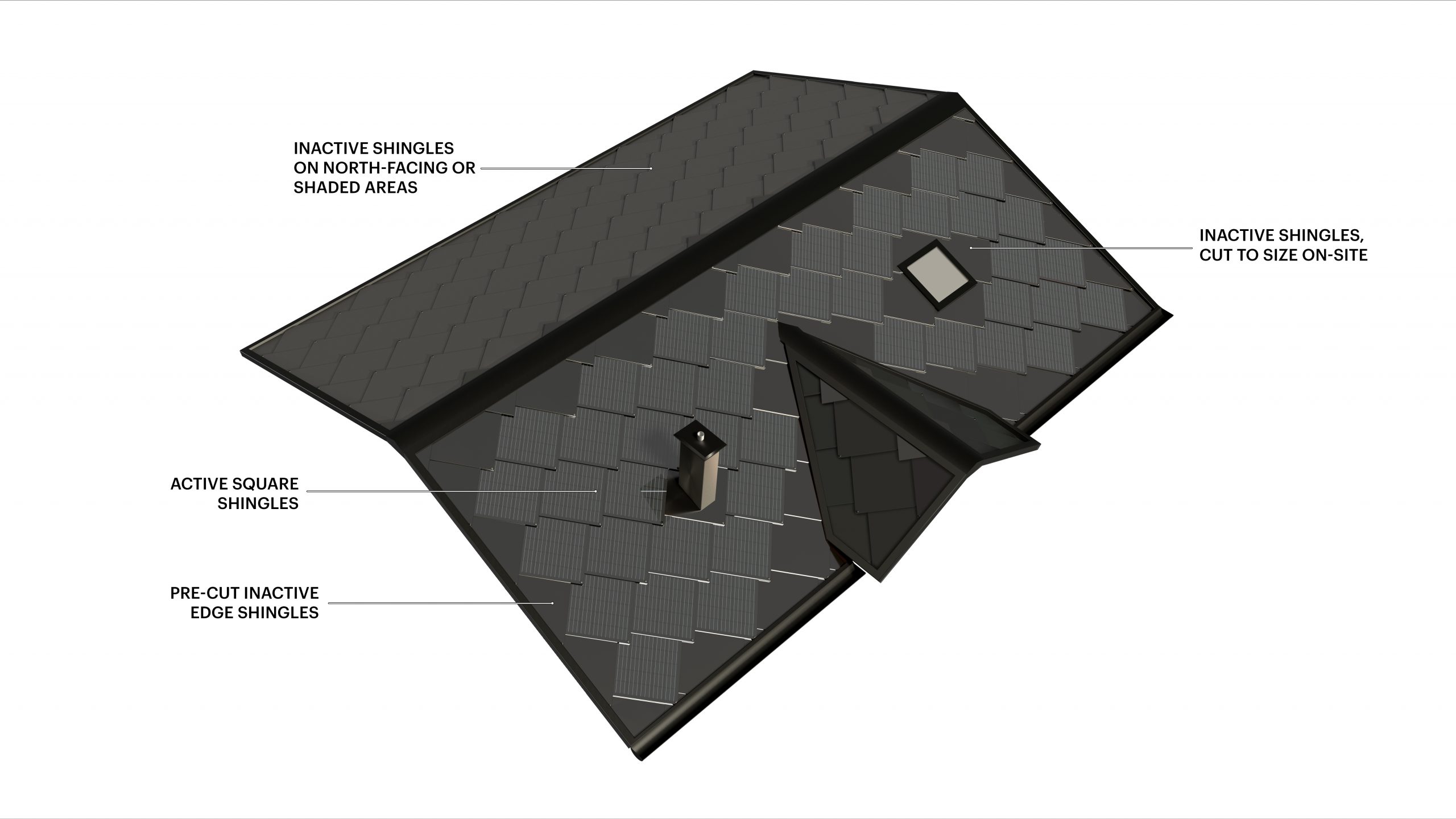 In addition to the signature diamond-shaped solar shingles, inactive shingles without solar cells are installed in areas without sun exposure. Energy producing edge tiles result in the ideal roof finish and maximize energy production. The system can be adapted perfectly to special roof shapes using color-matched aluminum composite panels, which can be cut to size on site.
The SunStyle roof system is easy to install. Our solar tiles are light weight and the electrical connectors on the back of the solar shingles ensure straightforward and safe cabling. The SunStyle solar roof system will integrate into any technology, so you can choose your preferred electronics and battery storage.
SunStyle provides detailed specifications, training guides, hands-on experience and certification to allow you to sell and install the SunStyle solar roof to your clients.
In addition to training and installation support, SunStyle provides.
Active and inactive shingles, mounting hardware and gasket systems
Specification for all other materials provided by installation partners
Professional architectural plans and wiring diagrams
Design services to lay out and create custom solar roof systems based on project requirements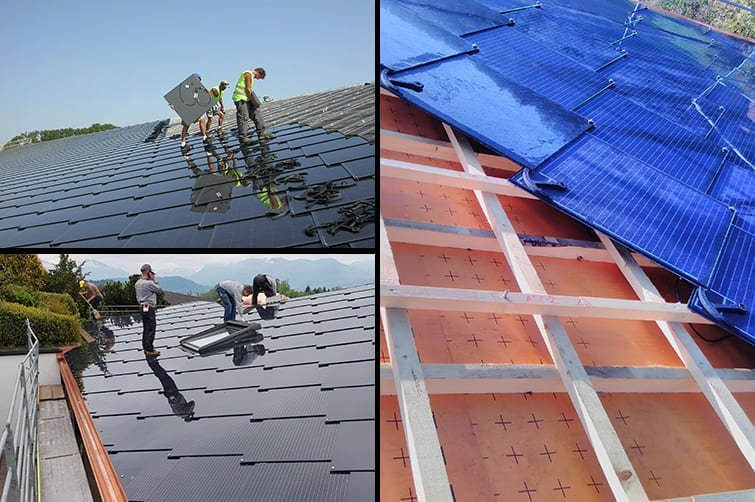 Learn more about becoming an installation partner
SunStyle is expanding our network of US installation partners. If you have interest in installing the SunStyle solar roof system in your region, we would love to meet you and provide additional information on our training and certification processes.
Partner with SunStyle
The solar tiles do not have any frames: this is not only for aesthetic reasons, but also because it allows the roof to be cleaned naturally by the rain. So long as no snow fences or snow guards are needed, snow does not last on the roof for long, which increases electricity production in winter. The solar roof is largely maintenance-free. However, should a defect occur, we will be pleased to assist you.
US Product warranty
25 years
Power warranty
90% up to 10 Years, 80% up to 25 Years
Contact Us to Discuss Your Project
Quick Facts About Solar Roof Shingles
For more frequently asked questions about the SunStyle solar roof system, please visit our FAQs.
What are Solar Roof Shingles?
Solar roof shingles provide the same functional purpose as traditional roofing materials like asphalt, slate or metal roofing materials to protect your home from outdoor elements. However, solar shingles – aside from serving as structural construction elements – serve a very important second function that traditional roofing materials do not offer. Solar shingles contain solar cells that convert the sun's radiation into usable electricity. In essence, you have a two-in-one solution in typical solar roof shingles; a source of clean, renewable energy and durable roofing material for your home.
Depending on the brand of solar roof shingles you install on your roof, the amount of energy generated may vary due to the type of solar cells and the size of each panel. Solar shingles are generally lightweight and easy to install by a trained roofing company or solar installer. They are fast becoming a common feature in many American homes because of their higher curb appeal, flexibility and the impact on sustainability. And just like ordinary shingles, SunStyle solar shingles are designed for durability. They are UL-certified to withstand harsh rain, wind, and hail.
If you're considering switching to solar shingles, SunStyle® solar roof shingles are a great energy-efficient roofing option for your home. They are suitable for residential, commercial, and other types of buildings.
How Do Solar Roof Shingles Work?
Solar shingles are roofing materials and solar modules together in one durable building material. This way, your roof can have a fully integrated edge-to-edge beautiful look, while still functioning as an energy-generating unit.
The principle operation of solar shingles is the same as conventional solar panels. As the PV cells absorb sunlight, they produce a flow of free electrons that yield an electrical current that can power your home.
Residential Solar Roof Shingles vs. Solar Panels
The difference between solar shingles and solar panels is the way they are installed. Solar shingles act as a structural roof that achieves two functions: to generate clean energy and to provide a uniform look across the whole roof. Solar panels, on the other other hand, are simply solar modules mounted on your roofing sheets, tiles, or shingles. Solar panels are added with a second set of building materials, and can sometimes have limits based on protrusions like chimneys, vents or skylights.
How Long Do Solar Shingles Last?
Depending on the brand you purchase, the standard lifespan of solar shingles lasts between 20 to 30 years with maximum energy output. After 20 years, the solar cells in your shingles will continue to generate electricity, but with lesser overall energy output.
SunStyle® solar shingles are designed to offer you maximum durability at optimum performance. With proper installation and maintenance, you are guaranteed a performance output of 90% up to 10 years and 80% up to 25 years. SunStyle shingles are manufactured using laminated glass, which is more durable than standard roofing materials and designed to withstand harsh weather conditions. SunStyle has a Class 4 Hail Rating, which is the highest hail rating and can reduce insurance rates.
How Many Solar Shingles Do I Need for My Residential Solar Roof?
The number of active solar shingles is dependent on the size of your roof and your desired system size. With a fully integrated solar roof system like SunStyle, a solar designer will place active shingles in the key locations and then complete the roof with similarly designed inactive shingles. Shingles that can be cut on site will be used to create a uniform look around vents, skylights, chimneys or other protrusions.
Are you looking to find out the cost of installing solar shingles on your home?
SunStyle® solar shingles are a premium option that provides a fully-uniform aesthetic with a single set of building materials. The cost of installing solar roof shingles largely depends on the size and complexity of your roof, and the active solar system size. Please reach out to us today your project specifications, we can provide you with an initial assessment and estimate.