SunStyle customizes each commercial solar roof with your design in mind.
Whether you are breaking ground on new construction or sustainably retrofitting an existing property, we work along side you to deliver a durable, long-lasting roof that meets your specific energy needs.
For over a decade, SunStyle has helped commerical and institutional buildings achieve maximum energy savings while delivering a beautiful, uniform finish. From educational to agricultural buildings, SunStyle has completed installations in Europe and the United States.
For commercial projects, we install the same shingle used on our residential solar roofs but can develop alternative mounting systems to achieve your desired architectural aesthetic.
Commercial Design Considerations
The SunStyle solar roof has an extremely low construction height and can be integrated stylishly into any building with a roof pitch of at least 3:12. When planning a new structure, there are certain design elements that should be considered to make installation of a SunStyle roof easier and more cost-effective.
SunStyle is not limited by roof or system size – the design can be scaled to fit any commercial building from a small offices to a large institutional campuses. SunStyle shingles are compatible with all solar electronics and battery suppliers, offering the ability to partner with your preferred vendors.
Get Architectural Design Specifications
Commercial Project Highlights
SunStyle has completed a wide variety of commercial and industrial projects. To see a full representation of commercial projects, please visit our gallery.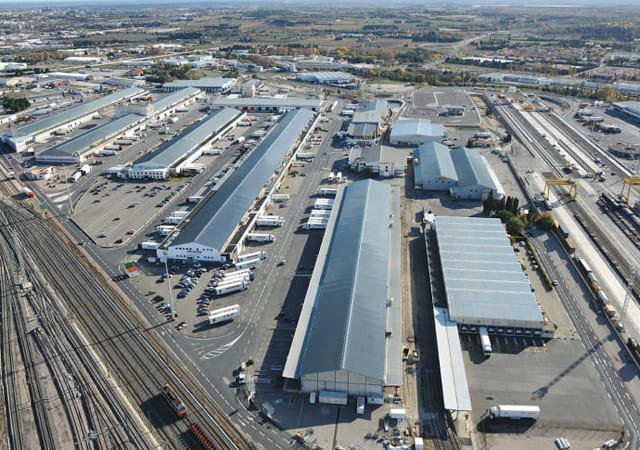 St. Charles International
The large-scale launch of the SunStyle solar roof took place as part of the Saint Charles Solaire power plant project in Perpignan (France). To ensure the technical and economic feasibility of the Saint Charles Solaire project, SOLAIRE SUISSE developed the SunStyle solar roof as a reliable and easy-to-use roof system at a time when existing solar systems were not attractive from either a design or technical perspective. As a fully integrated solution, SunStyle replaced the existing roof membrane, thus ensuring lasting weather protection.
The SunStyle solar roof was so persuasive that the entire 68,000 m² of warehouse roof surfaces in Perpignan were renovated. With an output of nine megawatts, the world's largest building-integrated solar power impressively demonstrates of the potential of energy-producing building materials. The continuous development of the solar roof and the integration of technical innovations since the completion of this project have made possible a patented solar roof that sets new standards.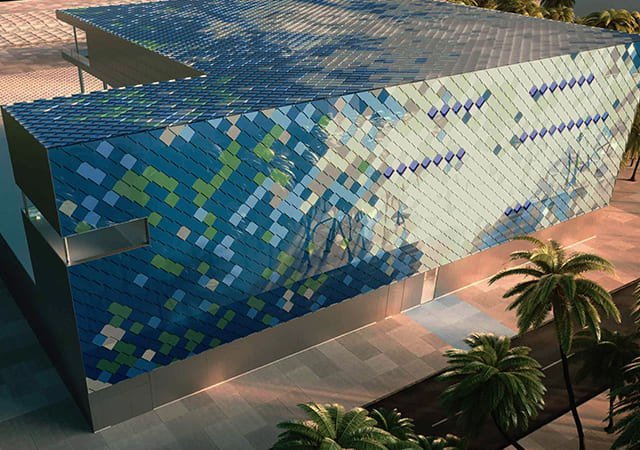 France Pavilion, Expo 2020 Dubai
Entitled "Lumière, Lumières"—or "Light, Enlightenment"— the theme and the architecture of the French Pavilion at Expo 2020 in Dubai reflect a desire to promote renewable energy and to recall the key role played by the philosophers of the Enlightenment in the 18th century. Designed by Atelier du Prado Architectes and Celnikier & Grabli, the French Pavilion is fully clad in SunStyle solar tiles.
In its exploration of the meaning and use of light in all of its forms—as a source of inspiration, creativity, knowledge, and means to connect with other cultures, the pavilion's roof and exterior facades are clad in blues and green SunStyle solar tiles. With these colours inspired by Claude Monet's Water Lilies, the solar building envelope aims to trap the sunlight and channel its energy into the building through an interactive light show. This project is made possible thanks to the colour technology developed by SunStyle LTD.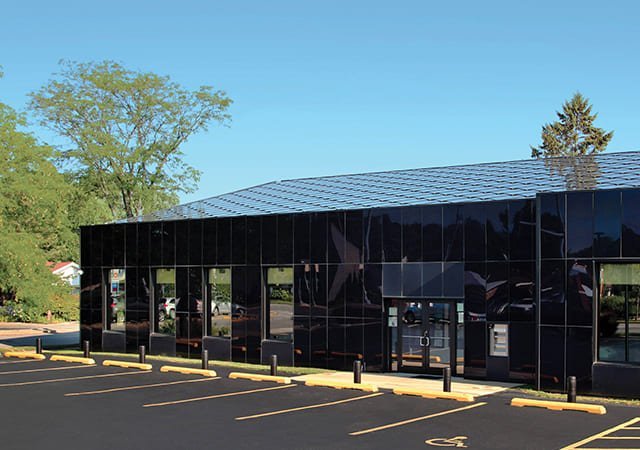 First Equity Bank, Skokie, Illinois, USA
As part of its Green Initiative, Skokie's 1st Equity Bank underwent a series of renewable energy and energy efficiency upgrades, including the addition of SunStyle solar shingles and custom photovoltaic wall panels.
These green design elements come together to create a cutting-edge system that brings the building closer to its net-zero emissions goal. Future renovations will include the installation of electric vehicle charging ports in the bank's lot as 1st Equity continues to work towards a greener future.
Contact Us to Discuss Your Project
We offer white-glove service for every commercial project. In the design phase, we work with you to understand your design goals and energy offset needs. With our certified installation partners, we work to achieve installation excellence for every project. To get started, please complete the form below and a member of our team will contact you. If you are seeking a quote for a roof outside of the United States, please click here to complete your request.
If you are looking to partner with us as a certified installer, please complete an installation partner inquiry.