Power any home with SunStyle® solar shingles.
As we continue to expect more when it comes to the energy performance of our buildings, we must work to move away from fossil fuels and nuclear energy and towards renewable energy sources. A fully integrated solar roof that converts clean and unlimited solar energy into electricity helps us do both.
The SunStyle solar roof harmoniously connects these two objectives: first, as a high quality construction element, it offers sustainable weather protection; and, second, it enables efficient electricity production over the entire roof surface.
With its dragon-scale pattern, the SunStyle® solar roof is reminiscent of the centuries-old slate roof.
Our aim is to ensure that the appearance of the roofscape is maintained. The traditional slate and shingle roofs in the Alpine region inspired the design of our diamond-shaped shingles. The installation pattern guarantees optimal water-tightness and stability, and the seamless adaptation to each unique roof shape creates a harmonious, uniform look. Our new solar tiles in brick red and slate grey are an excellent match for roofs clad with brown-red clay tiles and grey fibre cement tiles. The SunStyle solar roof has an extremely low construction height and can be integrated stylishly into any building.
Gallery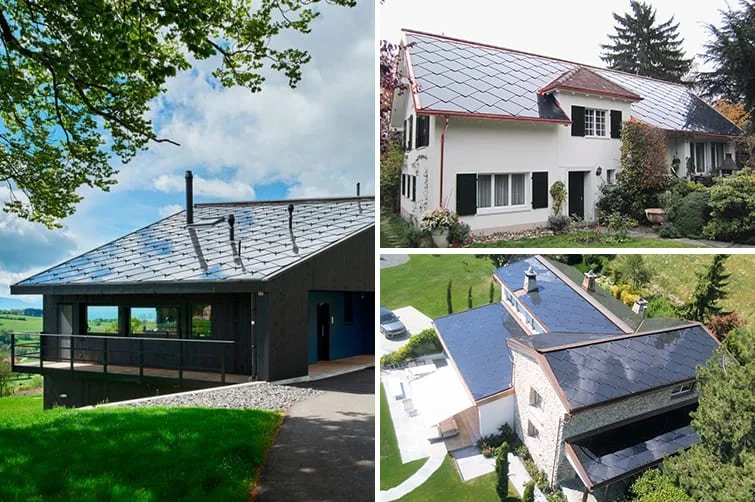 Thanks to the broad range of components, it is possible to achieve a homogeneous roof structure and high efficiency.
Coloured solar tiles in brick red and slate grey are a new addition to the range. They bring new possibilities in colour design and architectural integration of the solar roof. The surface of the brick-red and slate-grey solar tiles is made from structured solar glass, optimised for light transmission, which improves the colour perception from different viewing angles.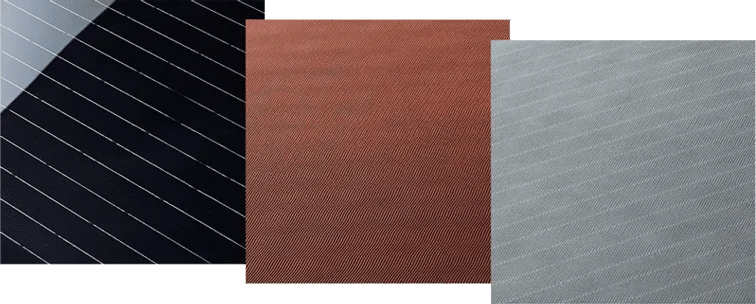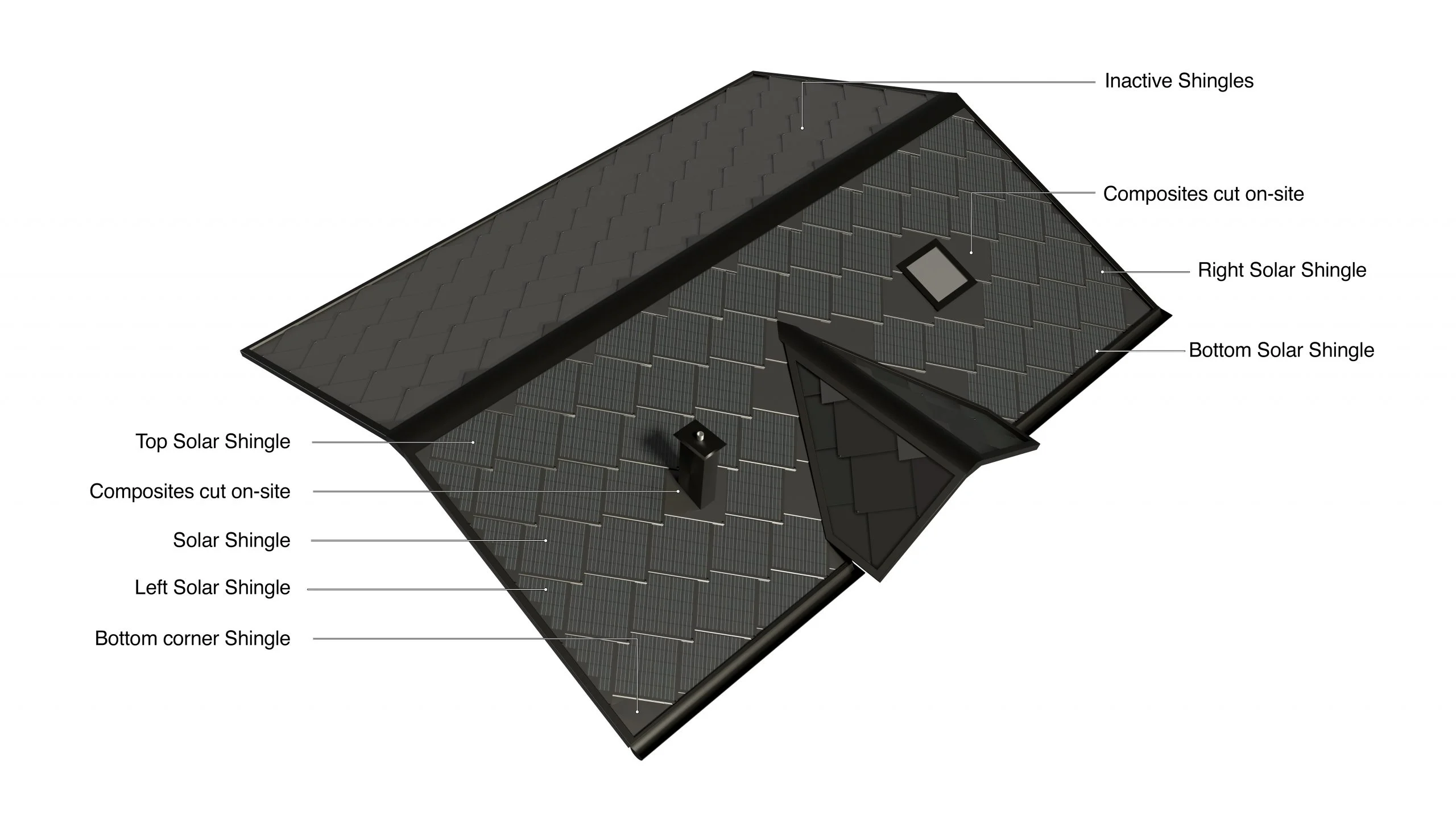 In addition to the signature diamond-shaped solar tiles, inactive tiles without solar cells are installed on areas without ideal sun exposure. Energy producing edge tiles result in the ideal roof finish and maximum energy production. The system can be adapted perfectly to special roof shapes using colour-matched aluminium composite panels, which can be cut to size on site.
Manufacturing and Quality
The SunStyle solar tile was developed as an energy-efficient, long-lasting construction element. The tile's monocrystalline solar cells integrated into the tile are embedded in a flexible, stabilising layer of ethylene vinyl acetate (EVA). They are protected on the front by hardened solar glass, and on the back by either a layer of resistant plastic backsheet or hardened safety glass (ESG). This engineering, refined over many years, makes SunStyle an extremely long-lasting construction element.
The coloured solar tiles are pigmented on the inside of the front glass using a specially developed technology. Thanks to the use of UV-stable pigments, this enables long-lasting, colour-fast modules to be manufactured. The internal pigment layer also ensures that the self-cleaning function of the glass surface is maintained. The solar tiles are based on proven standard components.
Download
Quality and Certification
IEC 61215,IEC 61730
(protection class II)
External product validation
CSTB (Centre Scientique et
Technique du Bâtiment)
Snow load testing (SUPSI)
Snow load: >15,4 kN/m2 at
Allowed roof pitch: 3-60°
IEC 61215, IEC 61730, UL
1703, IEC 61701, IEC 62716
The solar tiles are screwed directly into the sub-roof structure using a fitted sub-construction made of wood or stainless steel. The size and weight of the solar tiles are designed in such a way that it takes only one roofer to lay them. The electrical connectors on the back of the solar tiles ensure foolproof and safe cabling, which can be done at the same time as installation of the roof.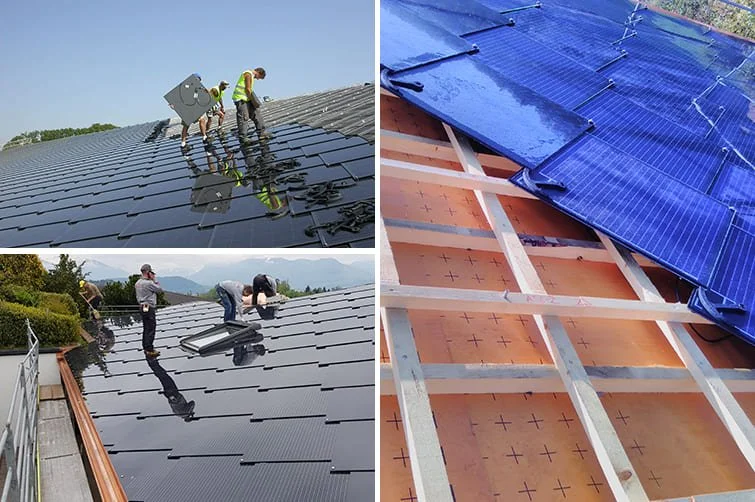 The solar tiles do not have any frames: this is not only for aesthetic reasons, but also because it allows the roof to be cleaned naturally by the rain. So long as no snow fences or snow guards are needed, snow does not last on the roof for long, which increases electricity production in winter. The solar roof is largely maintenance-free. However, should a defect occur, we will be pleased to assist you.
Product warranty
10 years
Power warranty
90% up to 10 Years, 80% up to 25 Years
Contact Us to Discuss Your Project
We'd love to connect and discuss next steps towards bringing SunStyle to your roof.
If you are seeking a quote for a roof in the United States, please click here to complete your request.