Saint Charles International, located in Perpignan, France, is Europe's largest produce transport hub, distributing fruits and vegetables grown around the world to markets across the continent. Its shareholders have developed it into a giant integrated solar power plant (BIPV).
Case Study: Saint Charles International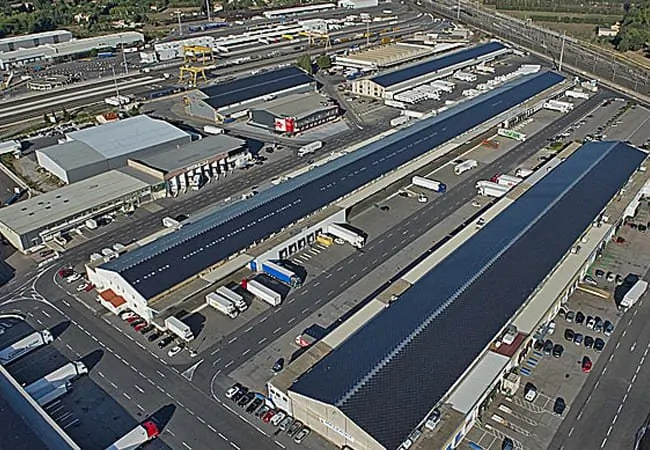 In 2009, the shareholders joined together to replace the original asbestos-filled roof with a clean and innovative upgrade: the installation of a SunStyle building-integrated solar roof.
The project, which was completed in 2011, covers 750,000 square feet and generates nearly 11 megawatts of electricity every year. 10 years after installation, power output continues to exceed projections, proving that it's possible to have a beautiful solar roof capable of producing enough electricity to power a city.
97,000 solar shingles
7 hectares of roof space
10,700,000 kWh/year
Powering up the community through BIPV
Saint Charles International's technological adventure has benefited the town that powers it. Today, excess energy generated by the solar power plant is fed back into the shared electric grid, powering over 2,000 homes and meeting the electricity needs of over 10,000 Perpignan residents.
Saving sustainably through solar energy
Annually, Saint Charles' SunStyle solar roof prevents the emission of 624 tonnes of CO2, offsetting emissions produced by the hub's fleet of refrigerated trucks.
Leading the ecological revolution
SCI has become a regional and world leader in clean energy generation, garnering international praise for its investment in a greener future. By believing in solar roofing's potential to make Perpignan a "positive energy city" that produces more energy than it consumes, SCI has taken an active role in championing Europe's sustainable development objectives.
For more information about the SCI project, watch the video.
Discover more projects in our gallery.