The demand for e-mobility is steadily increasing. Technological development continues to advance, and every day more and more people decide to switch to an electric car for the sake of the environment.
Apparently, a lot of emissions are saved here, but is that really true or is the problem just shifting? For e-mobility to be truly sustainable, the electricity we need to power our cars must also be renewable. That means using coal and natural gas plants to charge our electric cars is only a greener alternative at first glance. But on closer inspection, it's more greenwashing. If you want to use truly sustainable e-mobility today, we at SunStyle have a solution for you. But first, let's take a look at what is needed for sustainable e-mobility.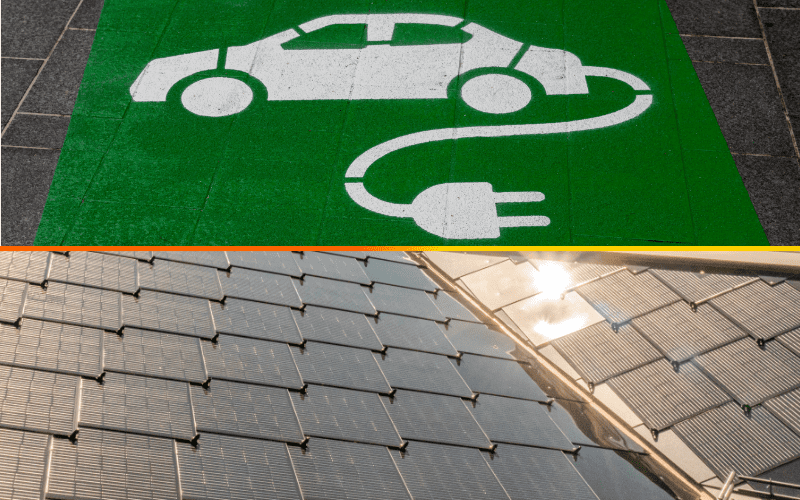 What is needed for sustainable e-mobility? (storage/battery, charging station, …)
On the scale of a country, this question is of course difficult to implement, but what about in the private sector, can self-sufficiency with solar power for sustainable e-mobility succeed and what is needed for this? To benefit from solar energy, a photovoltaic system is logically needed. In order to be able to charge your e-car at home, you also need a charging station at your house.
An electricity storage unit is also of great relevance. With a battery, you can store excess energy and thus bridge the need at night. Through a smarthome approach, even some electric cars can already act as storage. The home then automatically regulates when it charges the car and when it can retrieve the energy it needs.
Are these measures feasible to implement at home?
As a rule, the measures for switching to sustainable e-mobility are not a great difficulty. Beforehand, it is necessary to clarify whether the roof orientation as well as the area have the potential to meet their electricity needs. Roofs optimally suited for electricity generation face south and have an angle of inclination of about 30 degrees. In addition, the roof should be as free-standing as possible and not shaded by trees or other houses. A meaningful assessment of whether your roof is worthwhile for a photovoltaic system should be calculated individually by means of a calculation.
Own solar power with SunStyle solar tile, the perfect complement for e-mobility
As a complement to e-mobility, solar power from your own system is the perfect way not only to achieve true sustainability, but also to reduce the cost of transportation. In this respect, SunStyle's solar tiles fit ideally into the image of a modern household. Disturbing solar panels are history, the house of the future has a fully aesthetic roof covered with solar tiles.
Advantages of a storage/battery and use in your own home
Using the self-generated electricity yourself has a number of advantages, and the benefits are increased even further with an electricity storage system. The combination of solar power and modern storage technology in combination with e-mobility is therefore the technology of the future with which the energy transition can work. Here are the biggest advantages of a battery to store the self-generated solar power:
Self-consumption share Increases
Since solar power can only be produced during the day, but a large part is consumed in the late evening, a large discrepancy arises between the required and available electricity. Without storage, only 25 % of the generated electricity can be consumed by the user, with storage this value increases to up to 80 %. Therefore, storage systems are indispensable for the energy transition, but also a good investment for every household.
Independence from electricity supplier
Another advantage and also increased reason for a photovoltaic system is that more independence from the power grid is achieved. This means that you are less affected by the rising price of electricity, and through e-mobility, the high price of gasoline is no longer a problem. In addition, with a storage system, essential devices can be supplied even without a grid connection. Even if the power grid is very stable (e.g. Switzerland, Austria and Germany), you have enough power for devices like your refrigerator in an emergency.
Storage technology is getting better and better
Due to advances in technology, the large heavy lead-acid batteries, which had an efficiency of 70 to 80 %, have now been replaced with lithium-ion batteries. These have an efficiency of over 95%. The increasing demand for solar power and sustainable e-mobility will ensure further technological progress, which will benefit the quality of the technology. But even at this stage, lithium-ion batteries are already well suited for storing solar power. Their holding period is 10 to 15 years.
SunStyle consultation and service
Are you thinking of switching to e-mobility and sustainable electricity, or do you have a project that you need help with? Then contact us, we are happy to assist you with individual advice. With our advice and service we want to help more people to invest in the sustainability of our planet.