The finding is simple: 90% of roofs in the EU are not being used, even though they could make a very large contribution to combating climate change if they were converted to solar roofs.
Expanding solar energy as a first priority
As part of the REPowerEU strategy, the European Commission has recently announced to increase its renewable energy target from 40% to 45% by 2030. Accelerating the granting of permits for renewable energy projects is to be a key lever in achieving this goal.
To achieve this goal, the European Commission intends to rely primarily on solar energy:
"By 2030 the share of wind and solar energy in power production capacities should double from the current level of 33% to 67%. And by then solar energy will also be the largest electricity source in the EU with more than half coming from rooftops." announced Kadri Simson, EU Commissioner for Energy.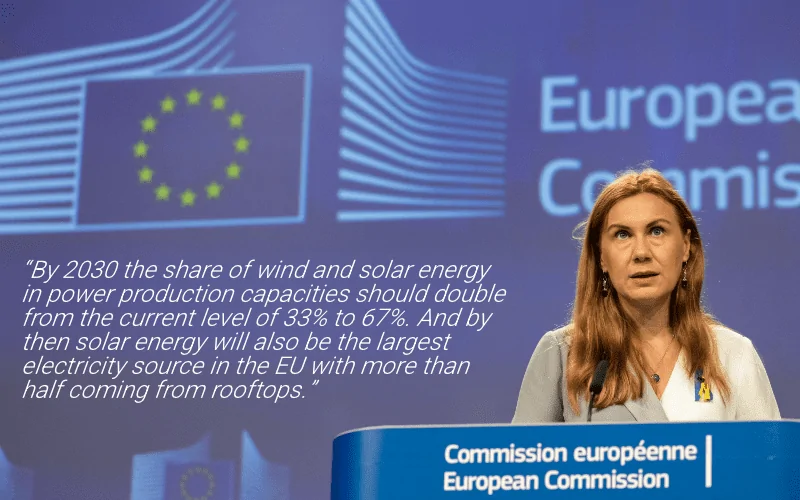 The European strategy focuses on three areas:
Facilitating the uptake of solar roofs and photovoltaics.
The access to recyclable solar products
The strengthening of European cooperation in the field of solar energy.
Use solar roofs in Europe
Ursula von der Leyen, President of the European Commission, has presented a new European rooftop solar initiative to add 58 TWh of electricity by 2025.
To achieve this goal, the initiative includes a commitment to the rapid deployment of solar installations (solar tiles or panels) according to the following timetable:
On all new public and commercial buildings (with a usable surface of more than 250 m2) by 2026.
On all existing public and commercial buildings (with a usable surface of more than 250 m2) by 2027.
On all new residential buildings by 2029.
Of course, SunStyle welcomes this new directive, where our commitment on European soil has been a perfect fit for years. SunStyle supports this European will to accelerate the energy transition.
Would you also like to invest in solar energy? We will be happy to assist you.